NCJT Hall of Fame
The NCJT Hall of Fame has been honoring our former junior golfers since 2006. Our HOF Members have made an impact in golf either as a tournament player or as a golf industry professional. We are very proud of our HOF Members and the amazing talent that have shown toward the great game of golf. Enjoy visiting!
Class of 2022: Ian Hardesty, Adam Lewicki, Brent Palich and Greg Podufal
Class of 2021: Daniel Berlin, Sam Hughes, Maxwell Moldovan, and Alan Semethy
Class of 2019: Zach Glassman, Nick Gustin, Jim Dawson, Danielle Nicholson, Halley Morell, and Nick Popely
Alex Andrews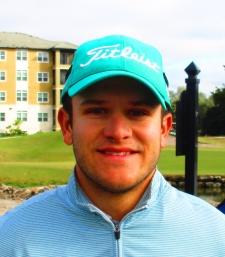 Alex won two individual state titles and a team championship while at Gilmour Academy. He won over 20 junior tournaments and was The Plain Dealer "Golfer of the Year" in 2009 & 2010. He plays college golf at Wittenberg, where he has one win and seven Top 10 finishes in less than two seasons. He also qualified for the NCAA Championship in 2012 and the USGA Junior Amateur Championship in 2010. Alex has an amazing tournament resume for his age and it may be one of the best at his age in Greater Cleveland golf history. Alex played on the NCJT from 2005 to 2009.
Dino Antenucci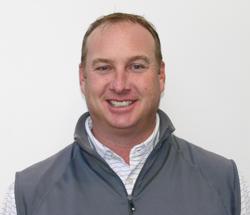 A master club fitter at the Titleist Performance Institute in Southern California. He works with many PGA Tour players on their equipment needs using the most advanced fitting technologies available. Prior to working at TPI he toured the USA in the Acushnet Science Van conducting driver and golf ball R&D testing and data collection. Dino played on the NCJ Tour in 1992.
Doug Barber
Doug played for the Cleveland State golf team and is the first player from the school to win an individual conference championship. He also helped his team win the Horizon Conference in 2006 to qualify for the NCAA Division I regional. Doug played on the NCJ Tour from 1998-2005.
Matt Borocz
The head golf professional at the Tournament Players Club (TPC) at Sawgrass, home to the Players Championship and the PGA Tour headquarters. After Matt completed his junior golf career, he enrolled in the Professional Golf Management Program at Costal Carolina University, where he graduated in 2002. While working at the TPC Myrtle Beach he was elected a member of the PGA of America. Matt played on the NCJ Tour in 1993.
Jason Carbone
The is the Head Golf Professional at Canterbury Golf Club in Cleveland, Ohio. He was previously at Baltusrol Golf Club in Springfield, NJ. He is a Golf Digest Top 100 Instructor and one of the Best Young Teachers group. He was also at the Jim McLean Golf School at the Wigwam Resort in Scottsdale, AZ. Prior to the Wigwam, Jason worked at the Inverness Club in Toledo and Muirfield Village Golf Club in Dublin. Jason played 4 years at Bowling Green State University. He played on the NCJT from 1992-1993 and aced the #12 hole in the tour's very first event.
Matt Creech
Matt is the Director of Golf and owner of the Golf Dome in Bainbridge, Ohio. He is the President of the Northern Ohio PGA of America. He was previously the General Manager of the Mayfield/Sand Ridge Club and the head golf professional at the Sand Ridge Golf Club in Chardon, Ohio prior to moving up to GM. Matt is ranked as one of the top instructors in Ohio by Golf Digest and is a very competitive player in the Northern Ohio PGA. He played college golf for 4 years at Cleveland State University and won 5 NCAA Division I tournaments while on the team. Matt played on the NCJ Tour from 1994-1995.
John Denholm
John is the head golf professional at Steubenville CC. Before that he was an assistant professional at Little Mountain CC & Quail Hollow CC. John graduated from Ferris State University in the Professional Golf Management Program and was elected to PGA membership in 2006. He played NCJT from 1995-1996.
Jason Dufner
Jason has 5 wins and over $27 million in career earnings on the PGA Tour. He won the 2013 PGA Championship. In 2012 he won twice and earned a spot on the USA Ryder Cup Team. He won 3 out of 4 points in the 2012 Ryder Cup. He has 24 career Top 10 finishes and was 2nd in 2011 PGA Championship. He walked on at Auburn University and won three times. Jason played NCJT in 1993-1994 and won the Tour Championship in 1994. FYI: Jason's was NCJT's scoring average leader in 1994 with 75.02. His 2012 scoring average on PGA Tour is 69.89. What a difference 5 strokes can make!
Mike Grasso
Mike won 7 times on the North Coast Junior Tour. He was 1st Team All-Conference three times for Kenston High School. At Washington & Jefferson College he became the most decorated player in school history. He was two time NCAA DIII All-American, won 9 times, two time Conference Champion, and played in three NCAA National Championships. He was also a three time NCAA Academic All-American. Mike played on the NCJT from 2001-2005.
Jen Hanna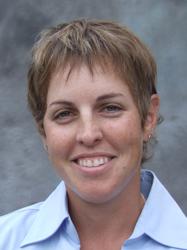 Jen has moved into the business world after many years in golf. She was head coach of the Furman University women's golf team for 7 years. Jen also played at Furman where she was a NCAA Division I first team All-American, MVP three of four years, and inducted into the school's Athlete Hall of Fame. She also plays on the LPGA Tour for 5 years. In her 1st LPGA start Jen had a 2 shoot lead (66-70-67--203) going into the final round of the Subaru Memorial of Naples. Her final final of 74 dropped her back to 8th, but if she had won she would have been only the second player in LPGA history to win in her first start. Beverly Hanson did it in 1951. Jen played on the NCJ Tour in 1992-1993, where she won every event she played including the Tour Championship.
Linked-In Profile
Joe Hurtuk
Joe is recent graduate of Kent State University golf team, where he was a member of the 4 MAC Championship teams. He is playing and caddying on the Hooters and Nationwide Tours today. Joe played on the NCJ Tour from 1997-2001, where he won the Tour Championship his first four years and his only second place finish was to Jason Kokrak another Hall of Famer.
David Kahn
David won the individual state championship in 1996 and played on two championship teams in 1993 & 1994 while at Gilmour Academy. He played college golf at Auburn University and graduated with a Masters in Landscape Architecture. He became a golf course designer for Fazio and worked on Shadow Creek in Las Vegas as one of his projects. In 2009 he co-founded Jackson Kahn Golf Course Design with Tim Jackson(a fellow ex-Fazio associate). They have an impressive list of USA projects and around the world from Seoul, Korea to Calgary, Canada. David played on the NCJT from 1993-1996.
Jason Kokrak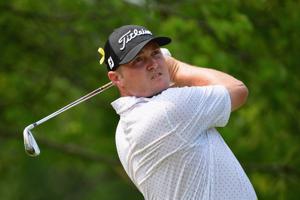 2021 was a record year for Jason! He had 2 wins (Charles Schwab Challenge & The CJ Cup @ Shadow Creek). He also finished 11th in the Fedex Cup and won over $5 million in official money. Jason's career PGA Tour earning is over $18 million and he has made 170 out of 257 cuts. Atlantic 10 Conference Performer of the Year twice, won two NCAA Division I events and has qualified for the US Public Links, US Amateur Championship and the U.S. Open. Won Ohio Amateur in 2006. He also won two Ohio Division III High School titles. Jason played on the NCJT from 1997-2001.
David Ludlow
Played college golf at Kent State University. Prior to college golf, he had an outstanding junior career. He won the Ohio Division II High School Championship, finished 9th in the PGA Junior at Westfield and won at least 20 other junior tournaments. David played on the NCJ Tour from 2000-2007, where he was Player of the Year and Tour Champion many times. He also holds a course record at Fairway Pines with 68.
Matt Lefferts
Matt Lefferts—is the Executive Director of the Columbus District Golf Association and Director of Rules for the Ohio Golf Accociation. He received the P.J. Boatwright Internship to begin his tenure with both golf associations. He is very active with junior golfers in Southern Ohio. Matt played on the NCJT in 1992, the tour's first season.
Joe Meglen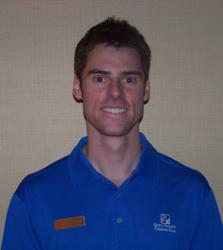 Joe won all 7 regular season events he played in his final season on the NCJT and finished 2nd in the Tour Championship. He played college golf at Kent State for 2 years and Eckard College in St. Petersburg, FL for 2 years. He won the Mid-Ohio Invitational while at Kent and finished 3rd at the F.I.T Invitational for Eckard. Joe has been a regular contender at Northern Ohio PGA events since 2008. Teaching golf is his passion. He is a full time instructor at GolfTec where he teaches golfers of all skills, and really enjoys working with junior players. As a golf professional at Quail Hollow CC, he worked with hundreds of juniors and served as the Head Golf Coach for NDCL. Joe played on the NCJT from 1998-2004.
Nick Palladino
Nick plays college golf at the University of Rochester and won the Phil Michelson Award in 2011 (Division III - Freshman Golfer of the Year). As a freshman he won 4 tournaments and never finished out of the top 10. His scoring average was 73.6 and he was named conference Rookie of the Year and Player of the Year. He won 4 more tournaments as a sophomore. He was named All-American both years. He has numerous wins on the NCJT, including two course records (64 & 65). In 2012, he won the Cleveland Amateur Championship. Nick plays worldwide on PGA Tour affliate tours and his profile can be found
HERE
. Nick played on the NCJT from 2005-2012.
Joe Ribelli
Joe set two competitive course records during his NCJT career. From the back tees at Fairway Pines he fired a 68 and at Thuvnder Hill from a back set of tees he shot 69, both were competitive course records. He played college golf Cleveland State University. Joe played 92 events on the NCJ Tour between 1998-2005.
Frank Rihtar
Frank is the Charities & Foundation Director at the Northern Ohio Golf Association. NOGA is the regional designee for the USGA and Frank start there in 2005. He remains dedicated to golf by working with Cleveland area clubs, committees and members. He played college golf at Otterbein College. Frank played on the NCJT from 1998-2001
Dan Rush
Dan was awarded the Jack Nicklaus Scholarship to The Ohio State University. He was on two state championship teams for St. Ignatius High School. He won the tour championship in each of his three seasons on the NCJT from 2000-2002
Jake Scott
Jake is a golf professional at Elyria CC. His seven-stroke victory in the 36th PGA National Assistants Championship (69-65-67-70—271 [-17]) one short of the all-time tournament record. He won the 2012 Northern Ohio PGA Apprentice Player of the Year. Won 4 Northern Ohio PGA events since 2009. Jake played college golf at Cleveland State where he won 4 tournaments and was the Horizon League Player of the Year. He won twice on the Hooters Tour and was the leading money winner for 2009-2010. Jake played on the NCJT from 2000-2005.
Ryan Scott
Ryan became a master instructor at the Jim Mclean Golf School at Doral Country Club in Miami, Florida. He also teaches at the prestigious Lake Shore Country Club in Chicago during the summer months. He played college golf at Ashland University and was named All-Conference, All-District and an Academic All-American. Ryan played on the NCJT in 1998.
Steve Siko
Steve is a Class A PGA Member and has been a Golf Professional at Quail Hollow, Stonewater and Legend Lake. He is also the boys golf coach for Riverside HS. His junior program's have been some of the best in the business and has been recognized as a model for how to developing young players. He graduated from Methodist College in Fayetteville, NC and played a few events on the Hooters Tour after school. Steve played on the NCJT from 1994-1998.
Jill Stupiansky
Jill played at Birmingham-Southern College (Division 1 - Big South Conference). She won 3 collegiate events, including the Big South Conference Championship in 2007. She won the Big South Scholar Athlete Award for Best Student Golfer in 2005, 2006 and 2007. Jill was All-Conference in 2006 & 2007 and was Female Athlete of the Year in 2007. From 2007 to 2011 she won two Cleveland Women's Amateur Championships and finished 2nd, 3rd and 4th in the others. She won the Alabama Golf Association's Women's Amateur in 2007. Played in one USGA Junior Amateur and three USGA Public Links Championships. Jill played on the NCJT from 2000-2003.
Alex Timmons
Alex works at Cleveland Golf as a Research and Development Engineer in Huntington Beach, CA. He works with many of the top PGA Tour players, like Vijay Singh and Jason Kokrak. Alex played college golf at Carnegie Mellon where he set a school record for both; most victories (5 wins) and most Top 10's (16). He was an All-American in 2008 and an Academic All-American in 2008 & 2009. He won the UAA Conference Champion in 2007 and was 8 time conference Player of the Week. He was All-State while playing at Chagrin Falls HS. Alex played on the NCJT from 1999-2003.
Beau Titsworth
Beau was the individual state runner-up in 2010 and the state champion in 2011 while at St. Ignatius HS. He was 1st team All-Ohio in 2009, 2010 and 2011. He won the 2011 AJGA Cleveland Junior Open (64-70-72--206 [-10]) at Red Tail. He was The Plain Dealer - Player of the Year in 2011. He plays college golf at the University of Oklahoma, where he has three Top 20 finishes and a scoring average of 73.11 as a freshman. Beau played NCJT in 2006.
Nicole Trivisonno
Nicole led NDCL to the 2009 Ohio High School State Championship. At NDCL she was named Academic All-Ohio, All-Ohio 1st team and a Member of the National Honor Society. She signed to play golf at Ashland University and is a long time student and friend of nationally know instructor Jim McLean at Doral in Miami, FL. She played the NCJT from 2006-2011 winning over 30 tournaments including two Jim Dawson Match Play Championships, two Tour Championships and was named Player of the Year four times.
Michael Trivisonno
Michael is the 2003 Ohio Division III High School state champion at Gilmour Academy. He was named the Northeast Ohio Player of the Year in 2003. He had an outstanding junior career with over 50 wins, including the Optimist State Tournament and the Westfield Junior PGA State Title. He played college golf at the University of Toledo and earned a law degree from Cleveland Marshall. Michael played the NCJT from 1998-2006, where he won two tour championships and was named 1999 Player of the Year.
Lauren Weaver
Lauren plays college golf at Northwestern, where she is All-Big Ten and Academic All-Big Ten for 2010 & 2011. She was medalist at the Lady Northern Big Ten Fall Preview in 2010. She won the 2009 Arizona Women's Amateur Championship. She won two individual Arizona State Championship while in high school. She won over 20 junior tournaments, including the AJGA Tournament of Champions in 2009. She was an AJGA Rolex Junior All-American in 2009. Lauren played on the NCJT from 2003 to 2004. In 2004 she won every event she played, including the Tour Championship.
Billy Whitney
He became a golf professional/businessman in Chicago and has developed a personal relationship with Michael Jordan who he spends most of his time with. At Methodist College his team made it to the NCAA National Championship three times and captured one national title. He was named All Dixie Conference and All-American for three years. He is a past Northeast Ohio Amateur champion and finished 16th at the US Public Links Championship. Played NCJT from 1992-1996.
Hillery Wilson
Hillery is a LPGA member and is a golf professional at Shadow Valley CC in Rogers, AR. She played college golf at Cincinnati where she won 9 individual championships. She set the school record for Lowest Scoring Average Season - 76.1, Lowest Scoring Average Career - 76.9, Lowest Single Round - 68. She qualified for the USGA Women's Amateur in 2006 & 2007 and USGA Public Links in 2007. Hillery played on the NCJT from 2001-2005.
Kara Vaneck
Kara played college golf at Boston University and was the captain in her senior year. She didnon-profit work in Greece to save the Skyros horse. She also taugh golf at the one and only golf course in Corfu, Greece. Besides her outstanding golf accomplishments, she won many honors and scholarships as well as the National Coca-Cola All American Award a very prestigious honor. Kara played on the NCJT from 1998-2002.
Nick Popely